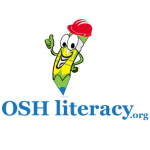 WELCOME
The world's only NGO promoting OSH literacy awareness .
                   What is OSH Literacy? 
Occupational Safety and Health  (OSH) literacy is a key work/life skill and can be defined as:      The degree to which individuals have the capacity to obtain,      process, produce and understand basic OSH information and services needed to make appropriate decisions regarding Health and Safety at work and in work-related training.
Literacy is the ability to read and write a particular language. Under the general umbrella term of 'literacy' there are recognised sub-literacies such as Health, Finance and I.T, which contain their own unique signs, symbols and meta-language. Schools and colleges teach these literacies to their students to better prepare them for their adult lives in the modern world.
OSH also uses a distinct set of shapes, signs, colours, symbols and meta-language to      communicate information. This literacy can become even more specialised                               depending on different industry sectors.
OSHliteracy.org is the world's first and only dedicated organisation specifically raising awareness and best practice with regards to  OSH literacy. We are committed to having OSH literacy recognised as an important specialised literacy, to having it taught in schools and colleges and to making workplace risk communications  'Accessible to All'
Why is OSH literacy education and awareness so important?
'Every 15 seconds, a worker dies from a work-related accident or disease.
Every 15 seconds, 153 workers have a work-related accident.
An estimated 2.3 million people die every year from [recorded] work-related accidents and diseases. More than 160 million people suffer from [recorded] occupational and                 work-related diseases, and there are 313 million [recorded] non-fatal accidents per year. The suffering caused by such accidents and illnesses to workers and their families is              incalculable. In economic terms, the ILO has estimated that more than 4% of the world's annual GDP is lost as a consequence of occupational accidents and diseases.' (ilo.org. 2015.)
Statistical analysis indicates that a large percentage of these workplace accidents occur due to a lack of understanding of, or failure to comply with, safety instructions. In many cases, this is due to poor communication and a lack of understanding of employees' levels of OSH literacy.
Therefore, we all need to ask if current OSH education, training, materials and
other modes of risk communication are fit-for-purpose and Accessible to All.
OSHliteracy.org is a registered non-profit, voluntary organisation. 'We confirm that
OSHliteracy.org has met all the requirements set-out in the Governance Code for
Voluntary and Community Organisations'. It is registered on the Governance Code's
'Register of Compliant Organisations'  http://www.governancecode.ie/organisations.php
OSH Literacy.org is a registered training provider for both the U.K.'s Chartered Institute of Environmental Health and the Highfield Awarding Body for Compliance. All courses are    internationally recognised and accredited.                                                                                               We are also proud to announce that OSH Literacy.org is the first ever international safety organisation to gain membership (Affiliate) of Fire-Aid (www.fire-aid.org); a consortium of UK organisations dedicated to developing Fire Safety programmes internationally.
© & Intellectual property of Oshliteracy.org, J. David Magee 2015.